Korg has introduced a full-sized version of its MS-20 monophonic synthesizer with the MS-20 FS, a faithful recreation of the classic available in four limited-edition colors.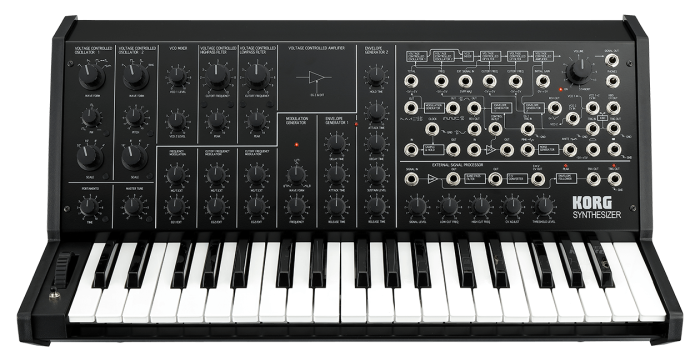 The MS-20 played a vital role KORG's history as a synthesizer brand. Even after sales of the original, released in the late 70's, came to an end, KORG has carried on the MS-20 tradition in a mini-sized reissue, a software synthesizer plugin, and even a kit version. These were driven by our pride in our synthesizer heritage, our understanding of its historical significance, our responsibility to faithfully carry on the analog circuit technology that we've developed over the years, and our desire to pass on its generation-spanning sound to the future.

And now, we have resumed production of a completely assembled full-size MS-20, which had in 2014 been produced only in very small numbers as a kit. But in addition to faithfully recreating the sound, feel, and analog circuitry, this full-size reissue will consist of limited numbers of four different powder-coated color variations: khaki (KHAKI), white (WHITE), metallic blue (MBLUE), and black (BLACK).

This MS-20 FS is the genuine MS-20 made by KORG, faithful to the original in every way. Today, 40 years after first appearing in 1978, musicians hungry for this absolutely timeless sound can hear the genuine analog power of the MS-20.
MS-20 FS features
Full-sized MS-20 made by Korg.
Four different color variations in a powder-coated finish.
Provides two types of filter: early model and late model.
Completely reproduces the analog circuitry of the time

2VCO / 2VCA / 2VCF / 2EG / 1LFO structure.
External Signal Processor (ESP) to process an external signal.
Patching system provides an extremely high degree of freedom.

MIDI IN connector and USB port are provided.
AC adaptor.
The original is reproduced in every detail, including the package finish and the included manual.
The MS-20 FS is scheduled for release in April 2020.
ARP 2600 FS
Korg also brings the ARP 2600 back to life with a one-time-only production run of the ARP 2600 FS semi-modular synthesizer,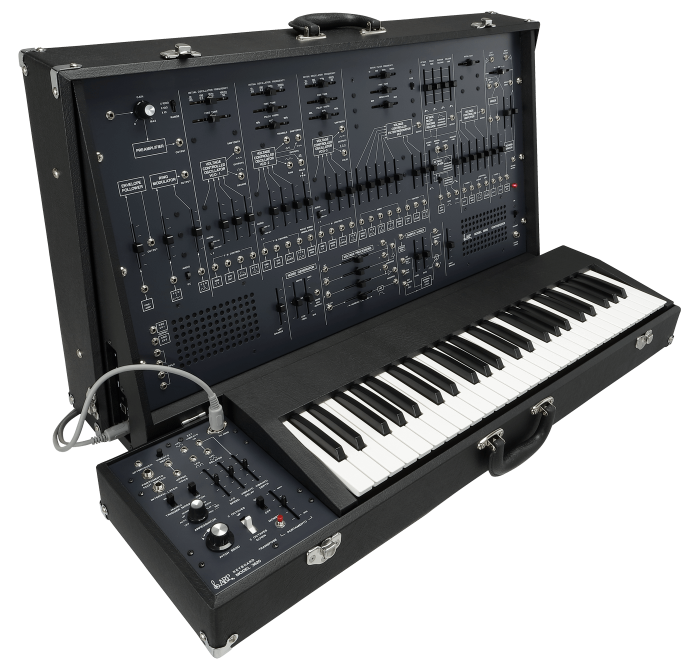 Now is your opportunity to own one of the most sought after and coveted instruments from the vintage synthesizer era. This limited-edition release includes USB and DIN-style MIDI connections, XLR audio outputs, plus the improved ARP 3620 Duophonic Keyboard with an added arpeggiator / sequencer. Your new ARP 2600 will arrive in a custom-branded hard shell case, complete with casters.

More than a synthesizer, the ARP 2600 is a complete sound design studio. Even today, the ARP 2600 stands as a bridge between the individual elements of modular synthesis and the immediacy of a production / performance instrument. Included are an ample supply of oscillators, envelopes, a filter and amplifier – all of the building blocks of analog synthesis. But the ARP 2600 goes even further, with a spring reverb tank and even a pair of built in monitor speakers. Also present is much of the versatility of a vintage modular system, including a ring modulation, lag and voltage processors, an envelope follower, audio preamp, a clock-able switch, noise source, a sample & hold module, signal inverters, an auxiliary mixer, and even a set of parallel-wired/multi jacks.
The ARP 2600 FS will start shipping in February, priced at $3,899.99 USD.
More information: Korg