Korg has introduced the nanoKEY Studio mobile MIDI keyboard and nanoKONTROL Studio mobile MIDI controller at the 2016 Winter NAMM show.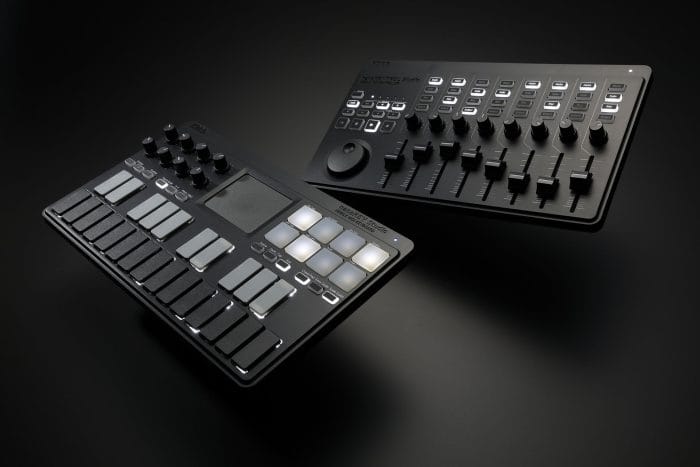 nanoKONTROL Studio provides transport keys and a mixer section, allowing for control of DAW or DJ software. The nanoKEY Studio, mobile MIDI keyboard, provides a velocity-sensitive keyboard, knobs, trigger pads, and a Kaoss-style touch pad, allowing for instant conversion of inspiration into sound. Both the nanoKONTROL Studio and the nanoKEY Studio can connect via USB or wirelessly via Bluetooth to iPhone/iPad or Mac/Windows for more music production freedom.

The efficient size and wireless power of the nanoKONTROL Studio and nanoKEY Studio make these controllers ideal for mobile or desktop use, are slim enough to travel alongside a laptop computer or tablet, and can easily connect to iPad/iPhone music apps such as KORG Gadget and Apple GarageBand, or Mac/Windows music production software. The simple, refined, and stylish designs of these mobile MIDI controllers feature illuminating white LEDs.

nanoKONTROL Studio provides all the controllers needed to operate DAW; sliders that feature generous spacing and stroke, plus a convenient jog wheel. The nanoKONTROL Studio is compatible with any software that supports MIDI input, and includes the Korg KONTROL Editor software allowing users to freely customize the settings of their nanoKONTROL Studio. In spite of its compact size, this controller provides generous power and a solid feel, making it a convenient and versatile MIDI controller, and due to careful tuning, users can enjoy low latency and high stability.

The 25 velocity-sensitive keys of the nanoKEY allow for easy step-recording and the Scale Guide function illuminates the keys to show recommended notes in the scale, making it easier to play. With a variety of performance modes that allow users to produce musical phrases using any keys, the eight trigger pads, and touch pad inherited from the KAOSS series, nanoKEY Studio delivers all-purpose music production power.

The nano Studio series come with a bundle of mobile and desktop music software and the sounds and functionality of iPad/iPhone apps can be expanded by connecting them to a nano Studio series unit.
nanoKONTROL Studio and nanoKEY Studio will be available in March 2016, priced at $149.99 USD each.
More information: Korg