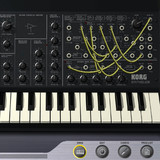 Korg has announced a change to its product line-up of the KORG Legacy Collection series, a bundle of instrument and effect plug-ins for Windows and Mac.
Starting on November 17th 2010, the components of all KORG Legacy Collections series will now be offered for sale as individual virtual instruments including: "MS-20", "Polysix", "Mono/Poly", "M1", "WAVESTATION", "MDE-X". Also available is the new "KORG Legacy Collection – Special Bundle", which is the complete bundle of all of the Korg Legacy Collection software titles at the KORG USER NET SHOP.

With this change, we will no longer offer the packages of software titles like "ANALOG EDITION 2007" and "DIGITAL EDITION". From now on, individual software will be provided instead of them.
More information: Korg