Korg has introduced the plugKEY, a mobile MIDI and audio interface that lets you play your iPhone/iPad using any keyboard.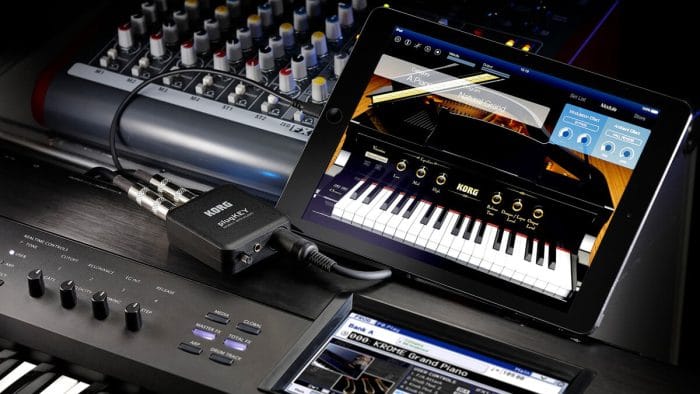 The plugKEY is a portable MIDI + audio interface that is the answer for those who want to use a keyboard of their own choice to play iOS musical instrument apps or produce music. Simply use the plugKEY to connect a MIDI keyboard to your iPhone/iPad, and start playing. Now you can enjoy using your own keyboard to easily play a stupendous array of musical instrument apps that deliver serious sounds and convenient functions. You can use your iPhone/iPad while charging it. Audio interface functionality with stereo output is also provided, so the plugKEY is an ideal choice for those who want to use musical instruments apps in the studio or on stage.

A keyboard provides a convenient upgrade to the daily musical experiences you enjoy with your apps, and let you perform to the full extent of every app's potential. The plugKEY is your key to a new style of music, brought to you by KORG, the company that continues to provide both musical instrument apps and a wide selection of keyboard instruments from synthesizers to electric pianos.
plugKEY features
Just connect plugKEY, your iOS device becomes a musical instrument.
The confidence of "Made for iPod/iPhone/iPad" certification obtained from Apple.
Studio-quality 1/4″ jack audio outputs.
Use while charging your iOS device.
Compact design can be taken anywhere.
Free apps that let you start immediately playing and producing music.
Availability and price TBA.