Impact Soundworks has announced the release of Koron: Traditional instruments of Iran, its biggest world instrument library to date, perfect for realistic Middle Eastern music, cinematic scores, world fusion and much more.
Koron for Native Instruments Kontakt offers an authentic collection of 10 traditional Iranian instruments featuring over 17,000 samples, 1200+ performances, and Impact Soundworks' latest tools for editing, playback and customization.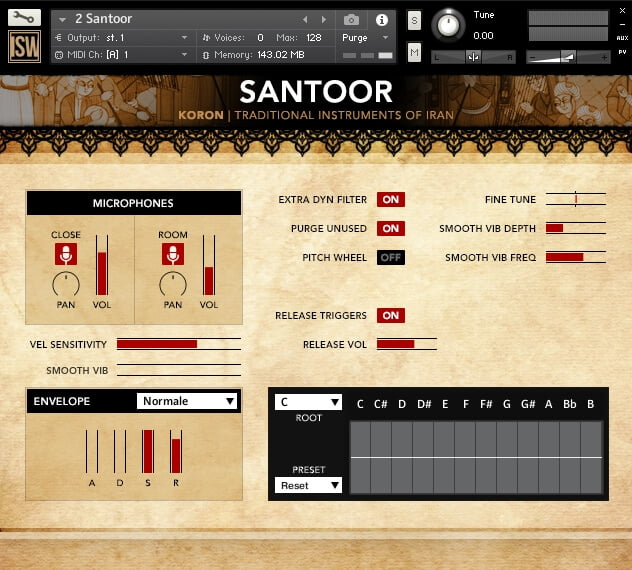 "Koron" is a traditional Iranian musical term that refers to notes a quarter-step lower in pitch. Using these quarter tone intervals is a distinguishing feature of Iranian and other Eastern traditional music. This sample library pays tribute to that concept, and is designed to capture the essence of Iran's rich musical forms and history, while also breaking the barriers between Eastern and Western music by giving composers new timbres and a new way to view music.

Koron began as the idea of Siavash Mozaffari, who raised funds for a 'sonic journey' to Iran. Sia's goal was to share the sounds of Iran's traditional instruments by turning them into virtual tools for any composer to use. We loved this idea and connected with Sia to expand the scope and depth of the project.

Over 2 years later, our collaboration has resulted in one of the deepest world instrument libraries ever released. Koron includes 10 instruments – 5 melodic, 5 percussive – with over 17,000 samples in total. We present both deep multisamples, including multiple dynamics, round robins, and legato transitions, as well as extensive percussive hits and techniques, plus over 1,200 performances and phrases.

Besides this staggering pool of samples, we've designed Kontakt patches with our latest script techniques such as Total Articulation Control Technology (TACT) for custom mapping, and phrase editing right within Kontakt itself. Together with Sia, we've also included pictures and information about every instrument recorded, so you can learn more about their construction, history, and playing style.
Koron features
Over 17,000+ 24-bit samples.
5 melodic instruments: Kamanche, tar, tanbour, setar, santoor.
5 percusive instruments: Bendir, daf, kuzeh, tonbak, zarbe.
Over 1,200 instrument performances.
Key playing techniques including legato.
Multiple RR and dynamics for all sounds.
2 unique mic positions.
Beautiful UI for easy tweaking and playing.
"Info" tab for details on each instrument.
Per-articulation ADSR edits.
Master drum patch: all-in-one.
Performance phrase editor.
Total Articulation Control Technology.
One-click FX (analog EQ, compressor, delay, reverb).
Koron for Kontakt 5.5.2 or higher (full version) is available for the introductory price of $179 USD until March 31st (regular $199 USD).
More information: Impact Soundworks / Koron: Traditional instruments of Iran