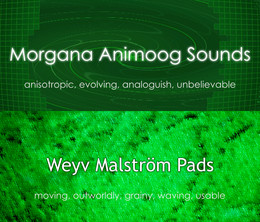 Kreativ Sound has announced the release of two new sound packs and a Spring Sale.
Morgana Animoog Sounds is a collection of anisotropic, evolving, analoguish and lush sounds for Moog's Animoog Synthesizer. Animoog is powered by Moog's new Anisotropic Synth Engine (ASE) for Apple iPad and iPhone that allows you to dynamically move through an X/Y space of unique timbres to create a constantly evolving and expressive soundscape.

Weyv Malström Pads is a collection of 64+ moving, outworldly, grainy, waving and usable pads and strings sounds for Reason's Malström Synthesizer. Malström is a unbelievable sounding synthesizer based on grain-table technology and combined with real-time waveform stretching, spectral modulation and the awesome wave-table sweeping. Just check out the pads and strings this green beast is cooking.
Kreativ Sound has also announced a limited time offer on its Premium membership, valid until the end of this April.
Use the SPRINGTIME discount code during the registration process to get a 25% discount.
The new soundsets are available to all Kreativ Sound Premium members. Membership is $39 USD per year.
Visit Kreativ Sound for more information.