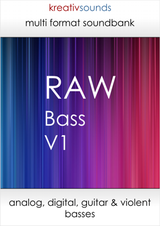 Kreativ Sounds has announced the release of RAW Bass V1, an all-purpose bass solution which includes over 1,000 analog, digital and guitar bass grouped into 96 multi-samples.
Many of the basses have been processed through tape recording to achieve that well known and sought after vintage and warm sounding feel.
RAW Bass V1 features
96 bass multisamples (over 1,000 bass samples) in 44KHz/24bit format so that you can use them in any sampler you like.
16 classic acid and volcano screaming bass multi-samples.
38 analog bass multi-samples covering classics, subs, noizes, saws, vintage etc.
24 additive, exotic, solid, organic and wild digital bass multi-samples.
2 bass guitars, 1 acoustic bass and 2 upright basses + bass guitar noises.
12 violent and wild bass multi-samples for total rage and mayhem.
RAW Bass Sounds V1 is available to purchase as a download for 5 EUR.
Visit Kreativ Sound for more information.