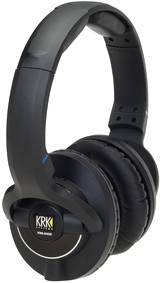 KRK has announced the KNS-6400 and KNS-8400, two products in a new series of professional headphones.
Similar in purpose and design philosophy to all KRK products, both the KNS-6400 and KNS-8400 provide honest reproduction that will benefit studio engineers, studio musicians, producers and avid music fans alike. The KNS headphones provide the same qualities that users of KRK speakers and subwoofers have benefitted from for 25 years; namely, sonic accuracy, transparency and consistency. Now you can enjoy the same KRK engineering, innovation and voicing philosophy when using headphones.
KNS-6400 / KNS-8400 features
Voiced to remain true to the character of KRK's class leading studio monitors, developed with 25 years of years of experience in studio sound.
The latest reference quality frequency response for closed-back, circum-aural dynamic headphones.
Newly developed headphone acoustical system bringing a new level of headphone performance for the first time.
Utilizing the latest in acoustic memory foam technology ensures class leading performance in both reproduction and isolation.
A new standard in headphone comfort, even over extended periods of use, designed to avoid feeling uncomfortable during long sessions. The special foam conforms to the ear to help ensure an improved fit.
Exceedingly accurate, natural and wide frequency response.
Large dynamic range with extremely consistent low-distortion detail and clarity.
Extended low frequency definition, ensures the bass component of your music is accurately reproduced, and is not lost.
Transparent reproduction of high-frequencies, resulting in highly accurate imaging.
High-efficiency Neodymium 40mm driver.
High durability 2.5m single-sided straight cable with oxygen-free copper wires.
Adjustable, foldable driver enclosures provide comfort and portability.
Replaceable cable, head, and ear cushions to ensure long product life.
Soft carrying case embossed with the KRK logo for travelling engineers, or storage when not in use.
1/4″ jack plug can be unscrewed to reveal a 1/8" plug for laptops and portable media players.
The KNS-6400 is available for a suggested US selling price of $99 USD, the KNS-8400 is $149 USD.
More information: KRK Systems