Kuassa has announced the release of Amplifikation Caliburn, a brand new guitar amplifier simulation based on British amplifiers.
The plugin was developed using the 3rd generation of Kuassa's electric circuit simulation, resulting in a responsive, more dynamic guitar playing experience that aims to satisfy guitar players.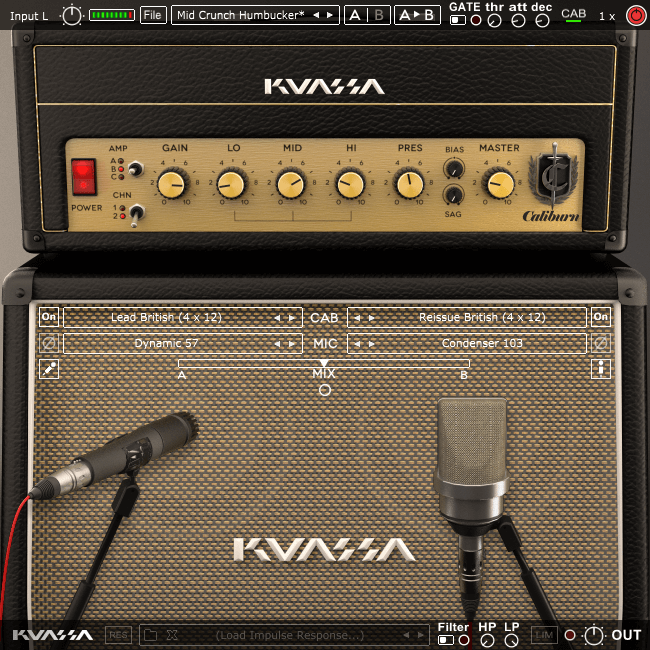 In the history of music, British made amplifiers has undeniable influences to the evolution of rock music. The loud, chimey clean, and thick crunchy mids of those amps were popularized by big acts such as Jimi Hendrix, Led Zeppelin, and The Who. It is the sound of rock music that lasts through generations until today. If there was only one name that represents the sound of rock music, it's absolutely this one: Marshall Amplifiers. Founded by Jim Marshall in 1962, Marshall amplifiers have taken the lead to be the top choice of many guitarists, such as Jeff Beck, Tom Morello, Andy Summers, Slash, Angus Young, Yngwie Malmsteen, to Kerry King of Slayer.

Following our extensive experimentation and never-ending quest to be the prominent guitar amplifier on your PC, now you can have the famous "British crunch" right from your personal computer. Powered by the 3rd generation of our research and technology, Kuassa Amplifikation Caliburn brings the soul of the iconic sound to your desktop.
Amplifikation Caliburn features
3 amp types, taken inspiration from Marshall JTM45, JCM800, and JCM900 Master Volume.
2 channels for each amp: Clean and Lead.
Power amp Sag and Bias feature.
Five types of cabinets with Celestion speakers.
High pass and low pass filters.
Seven types of workhorse mics: Shure SM57, Sennheiser MD421, Sennheiser MD441, C&T Naked Eye, Royer 121, AKG C414, Neumann TLM103.
Amplifikation Caliburn for Windows and Mac (VST/AU/AAX/Rack Extension) is on sale for the intro price of $35 USD until October 1st, 2018. The regular price is $49 USD. Prices excl. VAT.
The plugin is available from Kuassa and distributor Plugin Boutique.