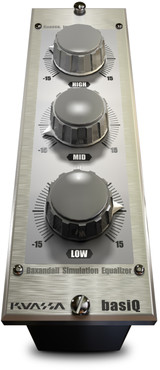 Kuassa has announced the release of basiQ, a free equalizer effect plug-in.
basiQ is an acronym for Baxandall Simulation Equalizer, a FREE 3-band equalizer plugin with photorealistic graphics from Kuassa, Inc. As the name implies, the engine are modeled after a design of classic baxandall equalizer well known for its smooth shelves and natural-sounding responses, similar to the tone control on a hi-fi systems. The simple controls allow you to shape the frequency from many sources to your needs, from opening up an air on guitar leads, adding a gentle shimmer on vocals, giving extra 'oomph' on your synth basslines, or even getting more presence from your masters.

This straightforward equalizer are well-suited for mixing or mastering purpose although the neutral characteristic of basiQ are more suitable as a 'sweetening' device or giving some transparent 'tilt' to your mix rather than a surgical device, best paired on master output with Kratos Maximizer, another audio processing plugin from Kuassa, Inc.
basiQ features
Simple tone control with large Low, Mid, and High knobs.
Preset Management with 12 preset slot within a single bank.
Mono and Stereo applicable.
Supports up to 96 kHz Sample Rate.
Compact and straightforward user interface.
basiQ is available as a freeware effect plug-in for Windows and Mac (VST/AU).