Kuassa has announced the release of native formats of its EVE-MP5, a reproduction of two of the most sought-after classic hardware equalizers, the Pultec MEQ-5 Midrange Equalizer and the EQP-1A Program Equalizer.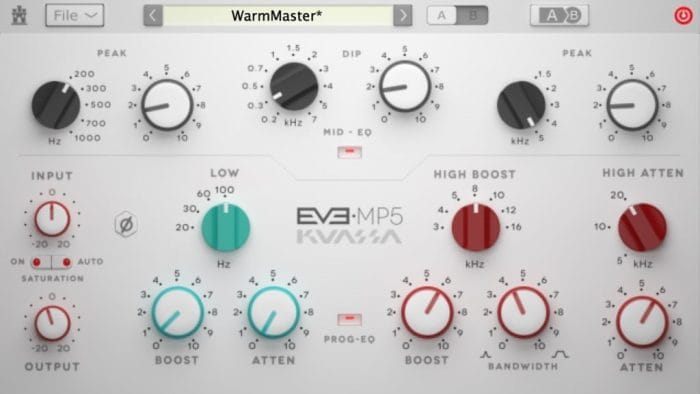 We drew inspiration from them and combined both EQs into a compact 3U device with a color coded, straightforward interface intended for fast workflows and maximum usability.

Known for their signature frequency curves, the EVE-MP5 will bring massive lows, smooth mids and shiny highs to any tracks you put them into. Utilize the famous low-end trick of boosting and attenuating the low frequencies simultaneously for a rock solid bottom-end. The MP5 is also loaded with a power amp saturation unit in the signal path. Turn it on for a hotter signal and dial the input to give a mild edge to your tracks, or push more for an overdriven sound. The "Auto" switch in the input section is useful for maintaining constant gain levels while cranking the saturation via the input knob.
EVE-MP5 features
Combination of the two Pultec EQs into a single, compact plug-in.
Color coded knobs and straightforward interface for fast workflows.
Unique Saturation unit on the input path with automatic level compensation.
Simultaneously boost and attenuate on the same low frequency.
Distinct Pultec* natural filter curve.
Dial up large amount of boost or cut without sacrificing naturalness and musicality.
The EVE-MP5 50s Equalizer for Windows and Mac (VST/AU/AAX) is available for purchase for $59 USD + VAT.
Kuassa has also updated its Cerberus Bass Amp and EVE-AT1 & AT4 plug-ins.
Changes in Cerberus Bass Amp v1.0.1
Long IR file path warning added.
Keystrokes bug on some host fixed.
License & preset folders auto create added.
VST3 bug on reloading saved project fixed.
VST3 Category added.
Changes in EVE-AT1 & AT4 v1.1.1
Output parameter smoothing.
Phase parameter smoothing.
Mono to Stereo bypass bug fixed.
Keystrokes bug on some host fixed.
Old Preset comparison bug fixed.
VST3 bug on reloading saved project fixed.
VST3 Category added.
More information: Kuassa