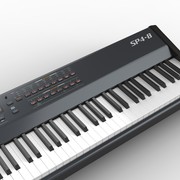 Kurzweil has announced the SP4-8, the modern successor to our best selling SP88/X, which famously combined world-class Kurzweil sound quality with previously unheard of affordability and portability.
The updated SP4-8 makes available to more players than ever the same sound set featured in our hugely successful PC3 line of professional keyboards, in an instrument that is slim, lightweight and extremely easy to use.
SP4-8 features
PC3 Series Technology – 128 hand-picked programs & dozens of professional quality FX Chains taken directly from our acclaimed PC3 Product Series.
Lightweight & Portable – At only 39 lb (17.7kg) the SP4-8 is one of our lightest 88-notes ever.
MIDI Controller – 4 user-configurable zones with 10 customizable MIDI controllers PER zone.
KB3 Tonewheel Emulation – Select signature KB3 organs, with all control parameters accessible via external MIDI.
World Class String Section – Culled from the PC3's extensive String Section ROM, the SP4 features a bank of carefully selected sectional as well as solo programs.
K.urzweil V.irtual A.nalog – Revered KVA powered synth programs pulled from the PC3 Series sonic library.
Easy Updates – Easy O/S Updates, installed via direct-USB connection to your computer.
The SP4-8 stage piano is expected in Q2 2011. The 74-key SP4-7 is now shipping at a suggested retail price of $1349 USD.