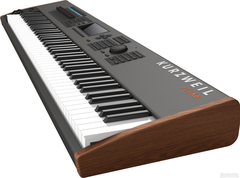 Kurzweil has released the PC3K8, an 88-key keyboard workstation which bridgesthe gap between Kurzweil's past successes and present innovations.
The Kurzweil PC3 series keyboards introduced some major developments in synthesizer technology, with their anti-aliasing VA oscillators, improved KB3 mode, amazing sound sets, 16 independent riffs and arpeggiators, powerful song and QA modes, sampling, unparalleled MIDI control, and more. If you're a long-time Kurzweil fan, however, you may have missed those wonderful sample libraries you've built up over the years. The PC3K8 changes everything! This revolutionary new keyboard combines all of the hard-hitting PC3 features, plus K 2/25/26 series .K file sample library compatibility, which opens the door to some of the greatest sound sets ever created.

With the PC3K8, you can combine more than a decade and a half of K2000 and K2500 legacy sample libraries with the PC3's super-powerful Dynamic V.A.S.T. synthesis engine, for exploring the uncharted possibilities of sound development. The potential power of the PC3K8 is simply incredible, and 88 PC3X-style fully weighted keys make it a blast to play. It even offers more excellent new features, including a USB host port that lets you plug in standard USB thumb drives so that you can quickly store and retrieve data, as well as load OS updates.

One further development that the PC3K8 offers you is 128MB of nonvolatile user-sample memory. Made possible by a breakthrough in sample flash technology, this nonvolatile user memory adds a new level of stability to the PC3K8. Not only does this new sample flash memory allow the PC3K8 to retain user samples after a power cycle, but it also powers back on with zero sample load time. Whether you're a Broadway performer, a working musician, a composer, or even a hobbyist, if you're looking for the very best performance sounds from a super-stable keyboard, you'll find it with the Kurzweil PC3K8!
The PC3K8 is available to purchase for an MSRP of $4199 USD.