KV331 Audio is offering a 50% discount on the popular SynthMaster virtual synthesizer.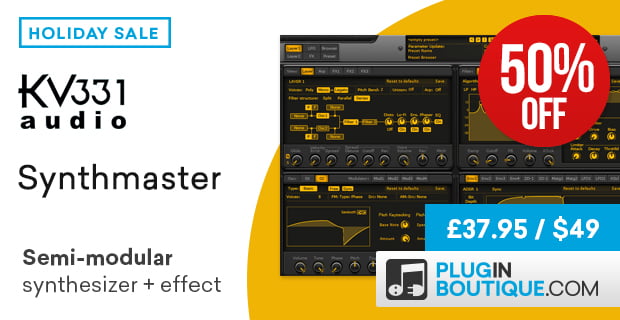 SynthMaster is an 'all-around' semi-modular software synthesizer and effect plug-in that features many different synthesis methods including VA, Additive, Wavetable, Wavescanning, Phase Modulation, Frequency Modulation, Pulse Width Modulation, Ring Modulation, Amplitude Modulation, Physical Modeling and SFZ Sample Playback synthesis.
Both SynthMaster and SynthMaster Player have been updated to version 2.9.7, which includes 50 new hardstyle presets designed by Fragment Audio.
The update also includes various bug fixes:
Visual display controls (frequency displays, envelope displays, etc) draw at lower resolution on retina screens.
When there's more than 2048 characters in a setting file line, SynthMaster crashes.
Cubase freezes when scanning SynthMaster and puts it in blacklist.
Multi-stage envelope generator doesn't align to tempo when looped.
When both Layer 1 and Layer 2 Dry Mix amounts are non-zero, only Layer1 is heard.
Ladder algorithm might create noisy output at the end of envelop decays.
Insert FX changes are not working for the AAX version.
SynthMaster should refresh SynthMasterProducts.xml file before user downloads purchased expansions.
SynthMaster is on sale for only $49 USD from Plugin Boutique until December 2nd, 2018 (regular $99 USD).
More information: SynthMaster