KV331 Audio has released version 2.8.6 of its SynthMaster and SynthMaster Player synthesizer instruments for Windows and Mac.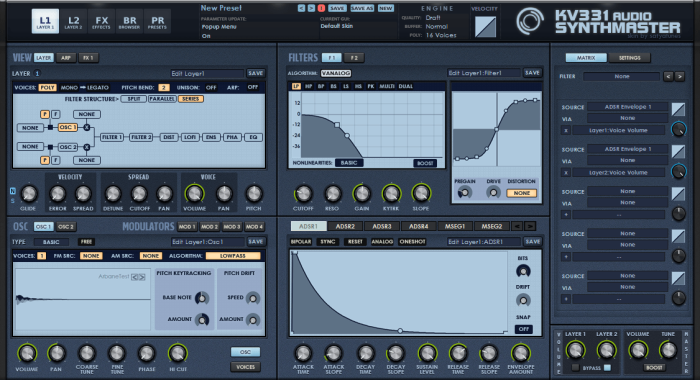 SynthMaster is an 'all-around' semi-modular software synthesizer and effect plug-in that features many different synthesis methods including VA, Additive, Wavetable, Wavescanning, Phase Modulation, Frequency Modulation, Pulse Width Modulation, Ring Modulation, Amplitude Modulation, Physical Modeling and SFZ Sample Playback synthesis.
Changes in SynthMaster v2.8.6
SynthMaster now supports MIDI Program Change and MIDI Bank Changes messages. Users can easily assign selected presets to MIDI banks by right clicking on the presets list and assigning them to a MIDI bank.
A new skin is added to SynthMaster, designed by Satyatunes
A new skin is added to SynthMaster Player, designed by VogerDesign & Levent Biyikoglu.
Fixed: Voice allocation kills only playing voices in release state.
Fixed: License key file dialog is not displayed on some versions.
Fixed: When saving global MIDI mappings, mappings there were removed recently are still saved in the config file.
Fixed: When hold pedal is released, wrong channel number is sent causing hangs.
Fixed: Arpeggiator view crashes/slows down SynthMaster when the control is paging through steps.
Fixed: Arpeggiator view doesn't reset scrollbar when a new preset is loaded.
Fixed: Pro Tools 12 rejects loading SynthMaster by throwing "Not a Valid 64-bit AAX plugin" error.
Fixed: Added new "record note duration" option while recording arp sequences.
The latest SynthMaster and SynthMaster Player versions are available for download for registered SynthMaster users. The demo version have also been updated.
More information: KV331 Audio