KV331 Audio has released an update to the SynthMaster One iOS synth app. Version 1.3.7 contains new features and critical bug fixes.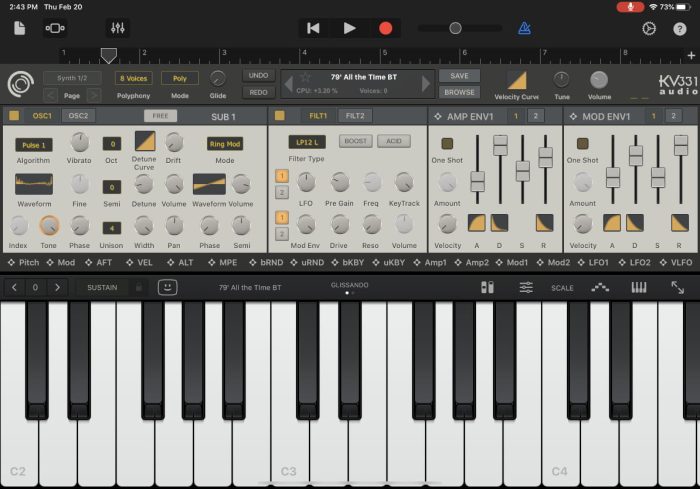 SynthMaster One iOS is KV331 Audio's first full blown universal synth app on iOS platform. It's a powerful wavetable synth with an intuitive workflow. With its simple layout, rich wavetable/waveform content and inspiring factory presets library, designing new sounds with SynthMaster One iOS is a joy.
Changes in SynthMaster One iOS v1.3.7
Added new AUv3 skins for 11 inch and 12.9 inch iPads.
Added MIDI learn for discrete controls.
Added MIDI learn for modulation amount knobs.
Added context menu for modulation amount knobs.
Favourite icon is now displayed next to the preset name.
Piano keyboard is now showing notes triggered from MIDI input devices.
OSC/LFO waveform menus drill down to show the selected waveform.
Fixed: SynthMaster One engine loads all factory waveforms, consuming around 300 MB upon launch.
Fixed: SynthMaster One UI is not scaled correctly on iPhone SE/iPod Touch 7.
Fixed: Parameter automations created before v1.3 don't work correctly due to parameter indexes shifting after version 1.3.
Fixed: Tapping a node on the treeview control might select the incorrect node.
Fixed: Tapping on a listbox while it's scrolling doesn't stop the listbox.
Fixed: Knob/slider touch might be cancelled when user slides finger to left/right.
Fixed: Polyphony is dropped from 16 to 12 on iPad devices.
Fixed: Tempo textbox is not active after Ableton Link is disabled.
Fixed: Analog synth tunings are one semitone down.
Fixed: When user synchronizes favourite presets to the cloud, the favourite presets list is cleared until the next run.
Fixed: Menus should not close when user taps on the built-in keyboard.
SynthMaster One iOS is available from the App Store for $19.99 USD.
More information: KV331 Audio