Best Service has announced the release of Kwaya – African Voices, a new Kontakt Player sample library by Eduardo Tarilonte.
An unrivaled choir library, Kwaya offers authentic African voices and chants. With Aba Taano from Uganda, Eduardo Tarilonte has found the perfect choir for this long and intensely prepared project.
Kwaya is an ideal choice for every producer wanting to use distinctive and expressive African chants and vocals in their works. Kwaya stands for incomparable inspiration paired with unbeatable versatility – no matter if you work on movie- or television-soundtracks, thematic documentations, musical compositions, atmospheric ambient themes or tribal-dance-tracks.

Kwaya allows you to create individual vocal lines and choirs by arranging syllables in different pitches as well as voice effects with the typical sound of African vocalists.

The awarded Aba Taano choir consists of four male and two female vocalists which have been recorded separately for this library in Kontakt 5 Player format, allowing you to create individual vocal-ensembles to your specific needs. Being able to freely set the level and pan-positions for each voice, you are given full control over the sound of the choir, resulting in the highest possible versatility.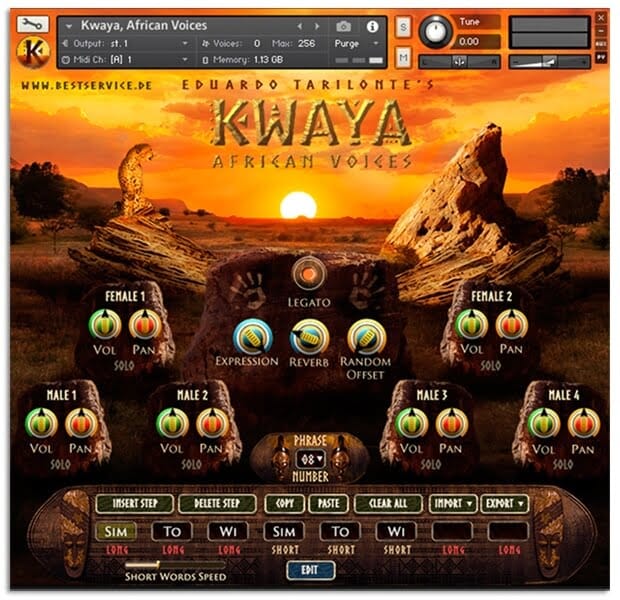 Kwaya features
4 male solo voices.
2 female solo voices.
5 different true African style legatos (a, e, i, o, u).
"Mmmh articulation".
A powerful Phrase-Arranger with 20 phrases, 8 syllables each*.
40 words can be combined with true legato playing while the corresponding vowel is automatically selected.
more than 700 voice effects*.
16 soundscapes.
10.000+ samples (mono, 44kHz, 24 bit), Library Size 7 GB uncompressed and 4.5 GB compressed.
Free Kontakt Player included (Version 5.5 or higher required).
Kwaya is available for purchase for MSRP 259 EUR/$259 USD/£199 GBP.
More information: Best Service / Kwaya – African Voices