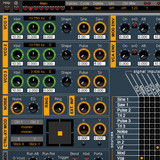 KX77FREE has released version 3.10 Kx-Synth-x16, a free virtual vintage modular polyphonic synthesizer for Windows.
Changes in Kx-Synth-x16 v3.10
Possibility to use negative values with the mini knobs of the matrix (control inputs).
Hard synchro from the Vco2 to the Vco1.
New filters: LP 12 db, LP 6 db, with or without HP filter.
Possibility to use the Ring Modulator without its limiter and an EQ has been added on its output.
The input or output voltage values of the sequencer can be displayed in note values (eg: 5 volts = A3).
Fixed: The sequencer has been rewritten to avoid possible crash with Asio4all or similar asio drivers (samplerate update).
Fixed: The matrix crash test works again (all matrix pins on).
Kx-Synth-x16 is available to download as freeware VST instrument plug-in for Windows PC.
More information: KX77FREE