LAB Gruppen has announced that it has expanded its D Series advanced install-dedicated amplifier platform with the introduction of three slimline models, the D 40:4L, D 20:4L and D 10:4L.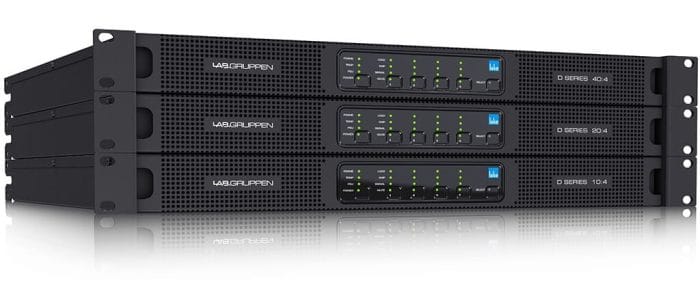 The D Series now consists of six power levels which offers integrators 'genuine open interoperability' providing seamless integration with a wide range of digital audio and control protocols.

"Total integration and flexibility has been the core ethos behind D Series which our most advanced install-dedicated amplifier platform to date. That's why we have introduced three further power options in a slimline format, incorporating LAKE processing and Dante digital audio distribution, to our already formidable line-up," adds LAB GRUPPEN Product Manager Hakan Gustafsson. "Our larger D Series models are already well established in the high-performance installation market. Now, these additional slimline models with lower power ratings, ensure LAB GRUPPEN D Series covers all applications."

The new slimline, four channel, small format 1 U rack space power amplifiers (4000 W, 2000 W and 1000 W total power output) offer extreme power density which is rivalled to alternative 8 channel amplifiers, but in a scalable form factor.

Each is available with LAKE Processing power and also herald LAB GRUPPEN's ground-breaking Rational Power Management™ (RPM) technology which made its debut with the flagship D Series release in 2014. RPM allows completely flexible allocation across all channels, ensuring the most efficient and rational use of amplifier inventory without the need to reduce channel count or total power.

The slimline models introduces the next generation of LAB GRUPPEN power-package; based on proven technologies for our renowned reliability but with increased performance and efficiency. The new models features LAB GRUPPEN's exclusive IDEEA (IntelliDrive Energy Efficient Amplifier) output stage for greater efficiency and extreme flexibility with direct 70 and 100 V drive as well as low impedance.

The power supply is ensuring a superior power-to-current draw ratio for reduced running costs and minimal environmental impact. Augmenting these green credentials is the CAFÉ (Configuring Amplifiers for the Environment) software suite which provides system design aid and many other time saving features that ensures optimized system cost as well as lifetime running costs.
More information: LAB Gruppen / D Series