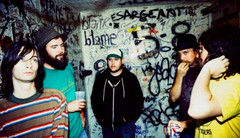 Laptoprockers has announced "The Rat" remix contest, featuring a track by one of America's hottest new rock bands: Dead Confederate.
Originally a high school band, Dead Confederate is spreading a new breed of dark, raw, mind-blowing psych-rock from their Athens based headquarters. "As much as we have a love for electronic music and good remixes, we aren't exactly skilled at it. This is where you come in. We want to hear your best remix of The Rat. Take as much or as little liberty with it as you want. No style is off limits. Be bold and make it your own."

The Rat is the first single off Dead Confederate's highly acclaimed 2008 debut album "Wrecking Ball."

With their previous contests Laptoprockers started making waves as a serious remix contest website. "We're always looking for tracks with an edge. We had a synth-pop track featuring an original Kraftwerk member in our last contest, and a track by a Drum and Bass legend before that. So we thought a Rock track would be a nice next challenge for remixers. The Rat is has a lot of remix potential. We're proud to have Dead Confederate on board."
Submit your entry before the deadline of June 21st, 2009 for a chance to win one of the three Rob Papen virtual synths in the prize pot. Dead Confederate, contest contestants and Laptoprockers will each choose one winners.
Visit Laptoprockers for more information.