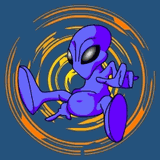 Laptoprockers has announced a Remix Contest with Psytrance pioneers Eat Static.
Featuring a drum & bass track, a rock ballad and a synth-pop song in previous remix contests, this time Laptoprockers have joined forces with pioneers of psytrance 'Eat Static' to offer remixers two great tracks to play around with. 'Sin Quest' is an upbeat dance track with a classic psytrance feel, while 'Up Periscope' explores the more downtempo psychedelic avenues. The tracks are off Eat Static's two most recent albums, De-Classified and Back To Earth.

"Both tracks unmistakeably carry Eat Static's signature sound and make up for great remix material," Laptoprockers said. "And as it is the first time Eat Static source material is available from the Internet in a remix contest, this unique opportunity caters for something extra. We'll have winners for each remix track, and the best overall remix will get a very special bonus."

As on earlier occasions, Laptoprockers offer a generous prize pool for this remix contest. LinPlug donated six of their best plug-in synthesizers for you to win! "Three prizes for each remix track is only adequate," LinPlug commented on their contribution, "so each track will have three separate winners." Prizes include LinPlug's all in one drum solution RMV, their sample mangling plug-in ChronoX, and FM Synth Octopus and represent over $900 total value.

But there's more at stake! The icing on the cake comes with a bonus for the best remixer overall. "We definitely will be able to release the best remix," Eat Static's Merv Pepler revealed, "we have several options in the coming months for that." Need say more?
The contest deadline is January 02, 2010.
More information: Laptoprockers