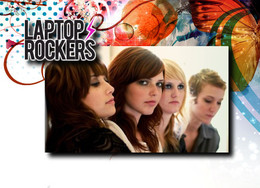 Laptoprockers has launched the Vanity Theft Remix Contest its biggest remix contest to date.
All girl indie-pop band Vanity Theft (Ohio, USA) are looking for entries for their full-length remix album, which they will be putting out this summer.

With 5 songs to choose from, this is Laptoprockers' biggest contest to date! Remix any of the 5 supplied Vanity Theft songs to enter the contest.
To fill the prize pool for this remix contest Laptoprockers have teamed up with Ableton and D16 Group Audio Software, a Polish developer of virtual instruments and FX.

Bonus prize! In addition to prizes for the three best remixers, there's a bonus prize for the best Vanity Theft mashup song. Create an original track using vocals from at least 2 songs.

"We are really excited to be participating with Laptoprockers in this contest, and we are also really happy to have some amazing sponsors. Ableton is big part of our writing and prep on the road. Live has time and time again proven to be the best and really the only way to put ideas together on the fly off of a laptop while on a 16 hour drive."
Brittany Hill (Guitars, Vocals, Keys)

"All of the remixes that were done after our album dropped wound up really influencing our writing, the D16 stuff is amazing, Its simple, wound up being so good for us because we have so much going between vocals, guitars and synths that their sounds kinda sit in the song and in the track live like the way old roland sounds do, which is a lot of what we used on our last LP."
Alicia Grodecki (Vocals, Synths)
Visit Laptoprockers for more information.