Novation has announced an update to its hugely popular 25-mini-key portable MIDI keyboard controller for Ableton Live, making it more versatile, adaptable and playable than ever.
Launchkey Mini MK3 brings a new arpeggiator, Fixed Chord mode, Capture MIDI, 16 big RGB pads, transport controls and more.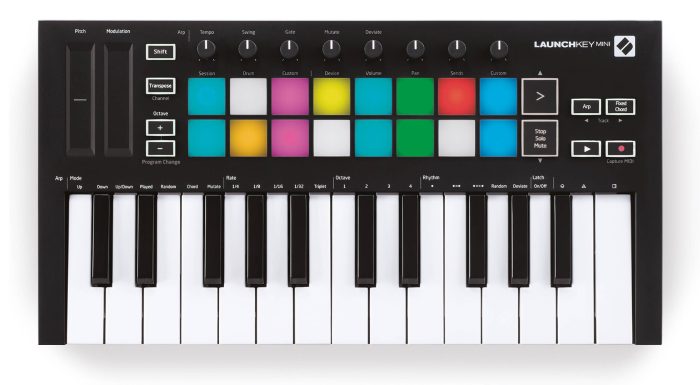 Featuring its best, most responsive mini-keymech to date, all-new pitch and modulation touchstrips, a sustain pedal input, and 16 newly RGB-backlit pads, Launchkey Mini is the perfect platform for expressive performance and color-matched clip launching.
The new Fixed Chord mode and arpeggiator help you take your melodic and harmonic ideas in new creative directions, enabling chords to be triggered from single notes, and turning held chords into riffs, melodies and sequences on the fly; and thanks to the Capture MIDI button, you'll never lose a note, even if you forget to hit record.

Spend less time clicking mouse buttons and more time making music, as Launchkey Mini's device control and deep, intuitive integration with Live lets you step back from the screen and feel the beats.

Start and stop playback and recording via the dedicated transport buttons, operate the mixer's Mute, Solo, Volume, Pan and Send controls, and take instant control of Device Macros with eight rotary encoders – connect more deeply with your music, navigating and mixing your projects in a more tactile way than the mouse and keyboard can hope to match.
Launchkey Mini comes with sounds, virtual instruments and plugin effects from Applied Acoustics Systems, Softube, Spitfire Audio, XLN Audio and Klevgrand, plus membership of Novation Sound Collective, bringing you new free content from plugin partners every couple of months.
It also has a MIDI out port for connection to hardware synths and grooveboxes, including mapping templates which also make Launchkey Mini the ideal solution for on-the-go control of Logic, Cubase, Reason or any other HUI-compatible DAW.
The Launchkey Mini MK3 is available now, priced at £99.99 GBP / $109.99 USD / 109.99 EUR.
More information: Novation