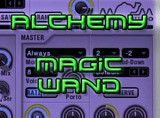 Le Lotus Bleu has released an update to Magic Wand, a soundbank for Camel Audio's Alchemy.
The Oculus is a free add-on for the Magic Wand soundbank. It contains 26 new Meta Instruments, 8 Z presets, and a couple of XV presets. The Oculus instruments will be merged into the Magic Wand existing folders in a transparent way after the installation process is completed. A list of all the new patches is available, making it easy to preview them.

Magic Wand now offers 127 Meta Instruments, for a total of more than 340 distinct new presets.
Magic Wand features
194 instruments: 127 Primary Meta Instruments, around 60 Z presets, and some XV presets. More than 340 distinct instruments, with the use of the Remix Pads.
Basses (18), Keys (54), Pads & Atmos (37), Leads (24), ARPs and Chord Sequences (28), Semi-real instruments and misc (33).
Highly expressive instruments, with many real time expression features.
Fully compliant with any Camel Audio future Content Management and Database developments.
A PDF manual including preset list, with an individual comment for each instrument, installation procedure, tips and tricks for Alchemy.
Magic Wand is available to purchase for 25 EUR.
More information: Le Lotus Bleu