Producertech has launched the Complete Guide to Wavetable, a tutorial course on the Wavetable synthesizer in Ableton Live 10.
Rob Jones shows how to create a number of presets in step-by-step fashion, allowing you to see how each section of the instrument works and learn techniques for using them to create quality patches of your own.
The course also includes a series of free bonus tutorials on the Echo device, which show how to add interesting textures and processing to the Wavetable patches made on the course.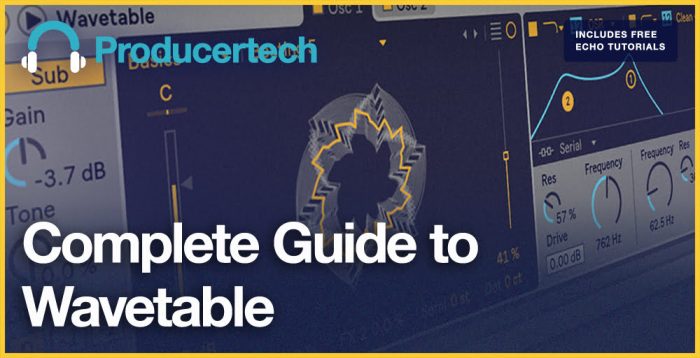 After a brief overview, Rob dives straight in to looking at some simple examples of oscillator modulation and waveshaping, demonstrating how impressive sounds can be made with relative ease. He then develops the sound with other sections of the synth, to improve students' understanding of the device and as a gentle introduction to designing sounds. The subsequent modules then move into more advanced territory, looking at increasingly complex and layered modulation techniques, used to create a Neuro Bass patch, a Spacey Plucked Lead and a Glitchy Rhythmic Sequence.

Although the bulk of the course is dedicated to Wavetable, there are 40 mins of bonus lessons on Echo, a fantastic new delay in Live 10. Rob uses Echo to add an extra dimension to lead and bass patches, making use of many of the unique features on the effect, such as modulation and mid/side mode. All modules are divided into shorter lessons, making digestion of lesson content and future referencing a great deal easier.
The Complete Guide to Wavetable is available for purchase for £18 GBP.
More information: Producertech