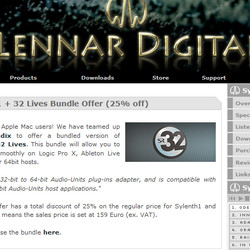 Lennar Digital has announced the availability of a bundle of its Sylenth1 synthesizer plug-in and 32Lives, a 32-bit to 64-bit AU plug-in adapter.
Good news for Apple Mac users! We have teamed up with SoundRadix to offer a bundled version of Sylenth1 and 32 Lives. This bundle will allow you to run Sylenth1 smoothly on Logic Pro X, Ableton Live and many other 64bit hosts.

"32 Lives is a 32-bit to 64-bit Audio-Units plug-ins adapter, and is compatible with virtually all 64-bit Audio-Units host applications."

The bundled offer has a total discount of 25% on the regular price for Sylenth1 and 32 Lives, which means the sales price is set at 159 Euro (ex. VAT).
More information: Lennar Digital