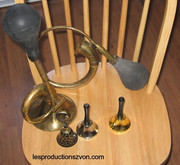 Les Productions Zvon has released Bonus Pack 01, a sample library that comes free with the purchase of any Les Productions Zvon product.
The Bonus Packs are sample sets that are given for free with purchases of my regular sample sets. They contain some odd sounds, all original samples released as bonuses because either they're too small to release as a regular sample set or due to lack of time to fully develop them.
Bonus Pack 01 features
Black Swan bell

: A small handbell recorded and processed through a Nintendo DSi, guaranteed LoFi! 44 samples (7.85 MB).

Cheap Bells

: Two handbells bought at a dollar store for the Holidays. Contrary to the Black Swan bell, it's the bells that are cheap not the recordings. Includes single hits and hand ringings. Only the 4 samples with stretch in their name are processed. 25 samples (6.67 MB).

Honks

: Samples made with 2 different vehicle horns, 17 honks with or without the sound of the air pump release and 3 "air" samples. The air pump release can easily be trimmed if you don't want it, as I did with Honk 14 that has the 2 versions. These samples were a popular giveaway for the New Year 2011 but now also contain some K3 mappings and processing including random pitch variations and 4 melodic Honks. 21 samples (1.15 MB).

Spindle Chair

: Collection of samples made by hitting the spindles of a wooden chair with a drum stick. Was recorded simultaneously in stereo and mono with 2 different recorders. Thus both sets of samples sound different. There are 19 patterns and 16 single hits, the hits are NOT extracted from the patterns. K3 mapping of the single hits has the Harp Glissando script in the performance view. The patterns are not mapped. 73 samples (5.59 MB).
The Bonus Pack 01 is available in wave, sfz and Native Instruments Kontakt 3.5 or better formats. A free demo can be found on the Les Productions Zvon website.
More information: Les Productions Zvon / Bonus Pack 01