Les Productions Zvon has announced it has set free the Quad Zamp sample player instrument plug-in for Windows.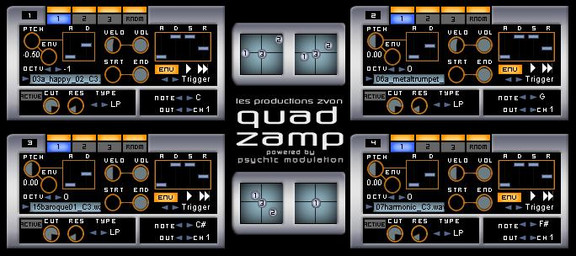 To beme more precise, the 4 audio outs version is now freeware. It previously was "soundware", meaning that it was a bonus with any purchase of our sample sets. The single audio out that was freeware is discontinued. I have decided this because we no longer sell our sample sets directly from our website, at least for now, due to the new EU VAT regulations.

Quad Zamp is a one-shot/drum VSTi sample player, consisting of four 'Zamp' style multi wav players, 12 wavplayers in total. Each wav player is assigned to a certain key, from C2 to B2. This can be customized. Also includes samples from the IYTTIW mofified trumpet and the Prepared Rhodes with ready to use kits.

It was made with SynthEdit and was "Download of the Month" in December 2005 Electronic Musician magazine.
Quad Zamp for Windows (VST) is available to download as freeware.
More information: Les Productions Zvon / Quad Zamp