Lindell Audio has launched Lindell 254E, a classic diode bridge compressor effect plug-in for Windows and Mac.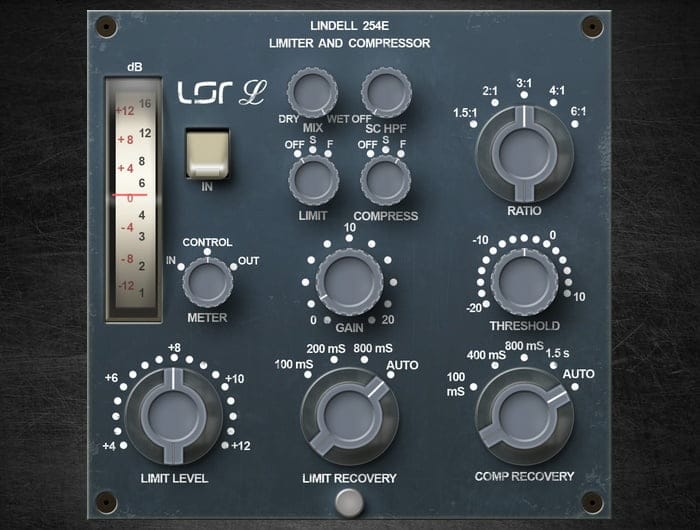 When Neve® first released their iconic 2254E™ limiter, it was intended for the broadcast market. While it did become a fixture in broadcast production facilities around the world, it was when the rock n' rollers got ahold of it that its legend really began. It was designed to place a ceiling on levels used in broadcast, but producers and engineers discovered that if you hit it really hard it produced a warm punchy sound that pumped up tracks and busses in a most pleasing manner. A great example of how sometimes using a tool for something other than its intended purpose can produce great results.

The Lindell 254E plugin captures the magic of this legendary limiter. In addition, the plugin includes useful additional features like a wet/dry mix and selectable slow or fast attack times. The wet/dry mix is particularly useful in that the 254E can easily deliver dramatic and highly colored compression effects. By dialing back the wet/dry mix, a technique often referred to as "parallel compression", you can add the punch of more extreme compression while maintaining a natural sound.
Lindell 254E features
Faithful hardware circuit emulation of this classic english limiter.
Diode Bridge feedback compress / limit circuit.
Sidechain high pass filter.
Mix control for parallel compression.
2 compress attack timings.
5 compress release timings.
5 compress ratios: 1.5:1, 2:1, 3:1, 4:1, 6:1.
Compress threshold (-20 to 10dBu, 2dBu steps).
Compress Gain MakeUp (0 to 20 dBu, 2dBu steps).
2 limit attack timings.
4 limit release timings.
Limit level (+4 to +12 dBu, 0.5 dBu steps).
3 Meter Modes (In dBu, Out dBu, Gain Reduction dB).
Analog warmth and non linearities.
Lindell 254E for Windows and Mac (VST/AU/RTAS/AAX) is available from Plugin Alliance for MSRP $149 USD.
More information: Lindell Audio / Lindell 254E