Plugin Alliance has introduced the Lindell Audio TE-100, an emulation of the Klein & Hummel UE-100 vintage tube equalizer of the 60's.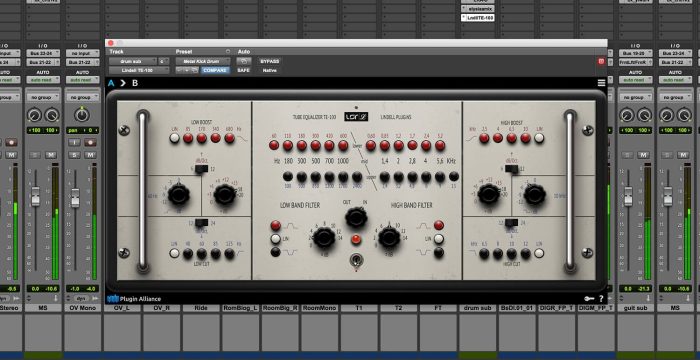 The Lindell TE-100 is an exacting emulation of all the sweet and savory frequency treatment offered by the original hardware EQ. Right down to the pushbuttons on the interface and the all-tube filter bypass, the TE-100 re-creates this piece of German audio history with immaculate realism. Only now, a stereo pair won't cost you upwards of $7,000.

Hone in on your sound with low and high pass filters at each end of the TE-100, then boost at one of four critical frequencies with rounded or high-Q shelf bands to add body and presence. Create dual parametric band-pass filters in the TE-100's mid section to quickly bring out the true character of your sound. The pushbutton frequency selectors offer a unique way to shape your frequency response by focusing on each corner frequency of a filter and moving those frequencies closer or further apart while letting your ears guide your mix decision.

The TE-100 plugin also adds a few useful extra features that help improve workflow in the digital environment: Maintain full control across a variety of mix situations by taking advantage of level calibration, internal oversampling adjustment, and an analog mode that adds additional tone coloration and noise floor taken from the original unit. Dial in precise gain adjustments in 0.5 dB steps, contrasting the 2 dB to 3 dB resolution available through the knobs of the original hardware. With the Lindell TE-100, the legacy of the original Universal Equalizer can be brought to your DAW in a convenient digital form that stays true to the hardware.
Lindell Audio TE-100 features
Faithful emulation of the all tube and transformer circuit from the Klein & Hummel UE-100 vintage equalizer of the 60's.
Eight bands allow you to carve and customize the perfect response for critical frequencies in your mix.
Unique parametric low and high band pass filters allow broad or focused, musically sweet curves.
Warm tube saturation and musical bands from the classic Rundfunk broadcasting EQ.
Analog Mode adds simulated noise floor and transformer saturation from the original hardware.
Create dynamic frequency response curves that simultaneously cut and boost – like a Pultec on steroids.
One of the most sought after tube equalizers in the history of recording. The hardware contains no less than 14 tubes!
Full control over workflow with adjustable oversampling rate, level calibration, and resizable interface.
The TE-100 is available for Windows and Mac (VST/AU/AAX), priced at $149 USD.
More information: Plugin Alliance / Lindell Audio TE-100