Line 6 has announced its next generation POD guitar processor built to toss into your backpack or carry-on and take anywhere. The POD Go features a simple plug-and-play interface, ultra-portable lightweight design, and best-in-class tones.
POD Go enables a simple and intuitive workflow. Choose, edit, and control sounds using the large color LCD screen, five push encoders, eight rugged footswitches, and cast-aluminum multi-function expression pedal—and add two external footswitches or a second expression pedal for even more real-time control.

All the essential audio connections are at your fingertips, too, including balanced stereo outputs, a duplicate amp out that can be tapped before the Cab/IR, a stereo effects loop, a headphone jack, and even a USB port for accessing the 4-in/4-out audio interface with re-amping.

POD Go boasts an arsenal of professional-quality amp, cab, and effect models drawn from the acclaimed HX family of effects processors—including classic amps like the Blackface, Plexi Lead, and Treadplate—as well as supporting third-party IR loading.

What is more, sophisticated features such as Snapshots enable you to easily access all the tones you'll need to cover every section of every song. With POD Go, you won't just take the stage—you'll own it.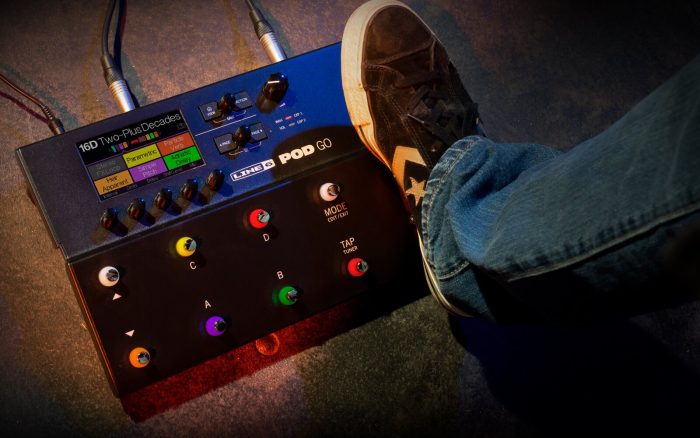 Pod GO features
Compact, ultra-portable, lightweight design.
270+ HX and legacy amp and effects models.
Best-in-Class Performance including amp, cab, and effects models drawn from the award-winning HX family of processors.
Simple Interface with Color Display Fast and easy tone creation.
Portable Compact, lightweight design.
4.3″ (11cm) Color LCD makes it easy to see what you are doing.
Color footswitch LEDs indicate which type of effect is active.
Load third-party cabinet impulse responses (IRs) for unlimited cabinet options.
Snapshots let you seamlessly switch between tones without audio dropouts.
Free POD Go Edit app for easy preset editing and backup.
Pedal Edit Mode lets you adjust any amp or effect parameter with your feet.
Stereo effects loop and TRS expression pedal/dual footswitch input.
Connect to a traditional amp via 4-Cable Method.
4-in/4-out 24-bit/96kHz audio interface for recording and re-amping.
POD Go is priced $629.99 USD (MSRP).
More information: Line 6