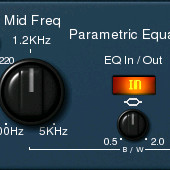 linuxDSP has announced the release a Windows VST version of CH-EQ2B, a parametric equalizer effect plugin.
linuxDSP has gained a proven reputation for producing professional quality plugins for the linux audio platform. The new linuxDSP OverTone range of plugins are ports of selected plugins to Windows XP / 7 and other operating systems. The first of these is the CH-EQ2B Channel / Master parametric EQ.

The CH-EQ2B uses innovative DSP technology to provide filters with an analogue style frequency response without resorting to CPU intensive upsampling.
CH-EQ2B is available to purchase for £20 GBP. The activation key will also be valid for the linux versions of the plugin.
More information: LinuxDSP