Liqube Audio has released a new update of its Resonic Player and Resonic Pro software for managing samples in Windows.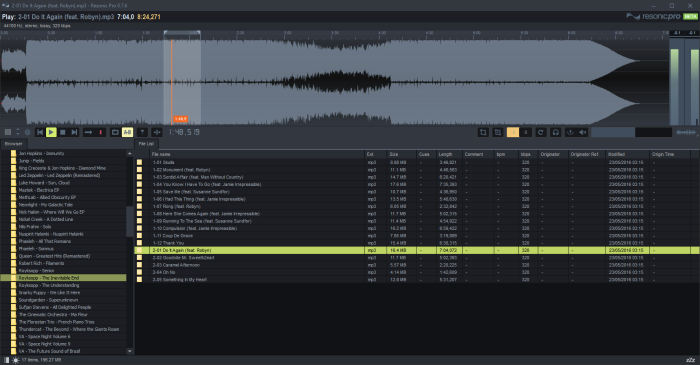 Resonic Player is a fast audio and music player, directory player, and sample browser, built around a big waveform view and a frequency analyzer.

Resonic Pro is a powerful sample manager, audio browser, and creativity tool for audio professionals that comes loaded with a unique set of inspiring and workflow-enhancing features, and an extensive metadata system.
Changes in Resonic v0.8.7b
New features:

Pro only: Playback and metadata support for RF64 Wave files (MBWF, BWF Wave, Broadcast Wave). RF64 Wave files are RIFF Wave files (both are .wav) that can go past the 2GB file size limit, but cannot be read by legacy players. These files are typically created by modern applications that need to be able to create very large files, e.g. Steinberg Cubase automatically creates RF64/MBWF .wav files on export if the file size exceeds 2GB.
Pro only: Now reads and plays BWF Wave files with .bwf extensions.
Pro only: Project, Scene, Take, and Tape columns that correspond with iXML metadata embedded in audio files. (#1187)
Pro only: Heavily improved support for Soundminer metadata embedded in WAV, AIFF, and MP3 files.
Resonic now supports WavPack hybrid correction files (.wvc). In hybrid compression mode WavPack creates pairs of .wv/.wvc files, and while the resulting .wv file is lossy the accompanying (but optional) .wvc file can be used to complete missing information for lossless playback. Resonic will look for a .wvc file in the .wv file's path. Thanks to the author of WavPack, David Bryant, for pointing this out!
Auto-closing popup menus now also fade out.
Browser now automatically expands collapsed folders after a short delay when dragging something onto them.
Browser now automatically scrolls while dragging something into it.
Pro only: Create temporary slices from slice metas, i.e. from slices stored in the metadata of certain filetypes, when available.
When using WASAPI as output device (recommended) and the active device is disconnected or disabled Resonic will first shut down playback and then the device itself, and finally show a warning.
A transparent overlay is now shown between main window and dialogs (e.g. preferences) and message or input boxes to focus the attention. This feature can be disabled via 'Menu | Interface'.

Improvements:

Bigger and more readable fonts for waveform playback position (orange), and waveform/analyzer/spectrum/level meter mouse position (blue). (#1165)
Pro only: Showing detailed timecode while making selections (SHIFT), and when snapped to markers, slices, or the loop start/end positions.
Flac decoder updated to libFlac 1.3.2, fixed previous release's issues.
Popup menu fixes and usability improvements.
Drag & drop improvements.
Pro only: Raised level meter channel limit to 64. (#1173)
Much faster loading of large MIDI files (e.g. 'Black MIDI')
Pro only: Reading additional meta data for several formats, e.g. tempo column (bpm) is now calculated based on other available information if possible.
Waveform drawing improvements for multichannel files.
Pro only: Bigger asynchronous file read buffer, worth the little extra memory use.
Recently changed created/accessed/modified dates now show up more descriptively as 'Today' and 'Yesterday'. (#1182)
Browser is updated faster when creating new folders.

Corrections:

Fixed track advance not working with DirectSound (DS) output devices.
Fixed broken file list column order in certain situations.
Fixed file list issues when deleting files.
Maximized main window was not being restored when exited in minimized state.
Resonic Player is available as a free download for Windows; Resonic Pro is 69 EUR.
More information: Resonic