LiquidSonics has announced the release of Cinematic Rooms, a reverb effect plugin dedicated to the intense acoustic demands of surround room simulation.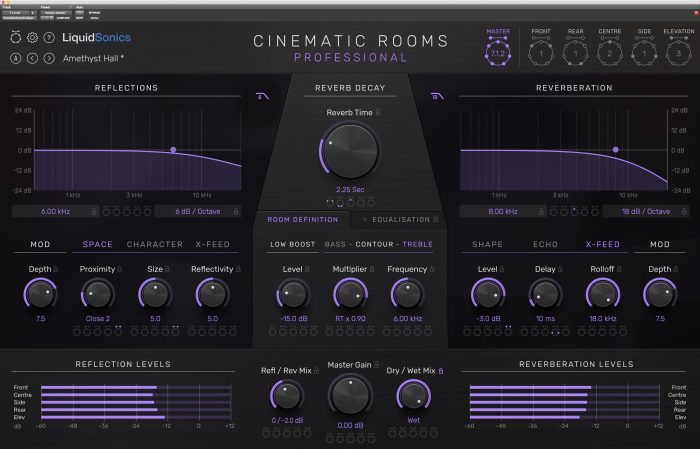 Deep yet accessible; advanced surround workflow tools allow you to design intricate acoustic spaces of incredible purity with simplicity. Available in two editions, both support channel formats from stereo up to 7.1.6 for use with the latest Atmos bed workflows. With a wide selection of expertly designed presets and intuitive controls, Cinematic Rooms is designed to help you find a perfect space in no time at all.

LiquidSonics has been working with industry-leading audio professionals, including Alan Meyerson, Steve Genewick, Scott W Smith, and many more to ensure that Cinematic Rooms has the sound and features needed for the challenges of modern mixing environments.
For the most demanding score mixing and post-production workflows, the Professional edition is the ultimate room simulator combining the latest in modulated constant-density reverb technology with an interface tailored to the demands of modern surround production.
Cinematic Rooms Professional Edition features
Stereo, LCR, Quad, 5.1, 7.1 – 7.1.6.
Surround plane parameter editing.
Decay to 45 sec / infinity.
Reverb and reflection roll-off.
Advanced reverb contouring.
Pre-delay with sync.
Level monitoring.
Surround / True Stereo / Multi-Mono Propagation Modes.
Over 300 presets, including 50 post-production rooms.
Reverb echo.
Advanced reflection engine.
Width control.
Crossfeed disparity definition.
Refined, simplified, but never acoustically compromised, the Standard edition is ideal for rapid workflows, lower budgets and simpler music mixing projects from stereo up to 7.1.6 bed.
Sharing the same reverb and reflection engines as the professional edition, the standard edition of Cinematic Rooms creates a convincing, pure ambience around your sources by simulating sophisticated early auditory cues for a wide range of realistic environments.
Cinematic Rooms for Windows and Mac (VST/VST3/AU/AAX) is available in the LiquidSonics Store with an introductory period throughout June:
Cinematic Rooms Professional $249 USD (regular $399 USD).
Cinematic Rooms Standard $129 USD (regular $199 USD).
Upgrade Standard to Professional for $120 USD (regular $200 USD).
Existing LiquidSonics customers can also use their store loyalty coupons in addition to these introductory prices.
More information: LiquidSonics