LiquidSonics has announced the release of Seventh Heaven and Seventh Heaven Professional, two reverb plugins for Windows and Mac.
Seventh Heaven is the most advanced Fusion-IR reverb ever. It combines the realism of Fusion-IR with an extensive multi-sampling of the Bricasti M7, providing the quality of a modulated sampled reverb with the flexibility of an algorithmic reverb.

For the first time ever in a convolution reverb Seventh Heaven Professional can reduce or extend reverb decays from 200 ms to 30 seconds. It can even modify early reflection patterns, specify any of the hardware's early/late roll-off positions, tune decay times with frequency dependent multipliers or add, remove or modify reverb delays and pre-delays.

With full control over early, late and low frequency components and over 200 fully controllable presets, Seventh Heaven Professional brings you closer to the most sought after reverb than ever before right in your DAW than ever before.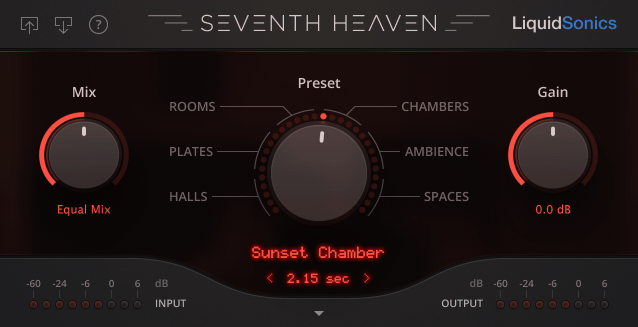 Combining the revolutionary convolution engine to date from Seventh Heaven Professional and a selection of 30 of the most beautiful reverbs from the Bricasti M7 with a beautiful and simple to use interface, Seventh Heaven is the fastest and most cost effective route to stunning M7 reverbs in your DAW.

Featuring full control over the early, late and low frequency reverb components, lush thirty second decays, and tempo-sync delay/pre-delay times.
Seventh Heaven is available for Windows and Mac (VST/AU/AAX), for an introductory price of £199 GBP (Seventh Heaven Professional) / £49 (Seventh Heaven) until May 14th, 2017 (regular £249 GBP/£59 GBP). A bundle of both is on sale for £225 GBP. Prices including VAT.
Existing LiquidSonics customers may be eligible for license discounts in the store.
More information: LiquidSonics