LiquidSonics has released version 1.2.2 of Mobile Convolution, a true-stereo reverb processor for use with Audiobus and Inter-App Audio hosts.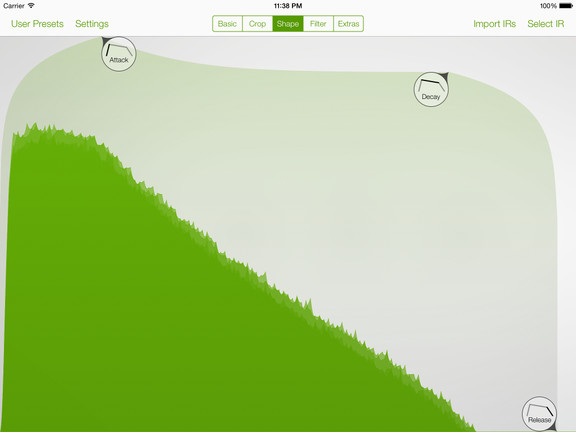 It allows impulse responses to be stretched, cropped and envelopes to be applied for shaping the sound of a reverb in a very natural and musical way. A configurable pre-delay provides the ability to push a reverb back into a sound-field or to creatively add rhythmic delay effects. The IR mirror mode adds further creative potential for ghostly reversed reverb effects with natural decays, or reverbs that gather into a crescendo.
Changes in Mobile Convolution v1.2.2
Impulse response mirror mode has been added to help create reversed or gathering reverbs.
Stereo to Mono down-mix for use with stereo IRs has been added to the settings menu (this helps to achieve natural panning when used as a send effect).
Impulse response download links are automatically updated from a curated list maintained on the LiquidSonics website when connected to WiFi.
All screens have been updated to support the larger screen sizes of the iPhone 6 and iPhone 6 Plus.
Mobile Convolution is available for purchase for $9.99 USD. The update is available now in the iTunes App Store.
More information: LiquidSonics / Mobile Convolution