littleBits and Korg have launched a pre-order for the Synth Kit, a powerful, easy to use modular analog synthesizer.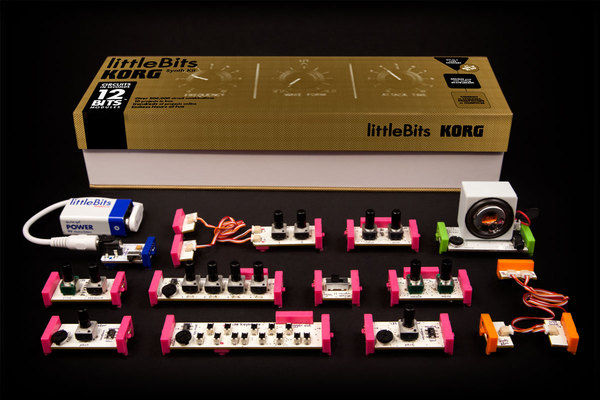 littleBits and Korg have demystified a traditional analog synthesizer, making it super easy for novices and experts alike to create music.

connects to speakers, computers and headphones
can be used to make your own instruments
fits into the littleBits modular system for infinite combos of audio, visual and sensory experiences
Synth Kit features
12 Bits modules: 1 Power, 2 Oscillators, 1 Random, 1 Keyboard, 1 Micro Sequencer, 1 Envelope, 1 Filter, 1 Delay, 1 Mix, 1 Split, 1 Synth Speaker.
Includes a handy 35+ page booklet, with step-by-step instructions for 10 great projects like the Keytar and Synth Spin Table.
9V battery and cable.
The Synth Kit is available to pre-order for $159 USD. The Kits ship December 6th, 2013. Limited quantities available.
More information: littleBits