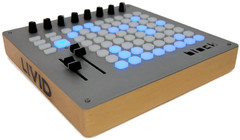 Livid Instruments has announced Block, a compact and programmable MIDI control surface designed for interactive audio performance.
Built on the same bi-directional and adaptable platform as the Ohm64, Block provides a powerful interface for creating and interacting with sound in a small easy-to-transport body. Sixty four backlight led buttons provide endless possibilities for visual feedback with the instrument by connecting it to Ableton Live, Max/Msp, our open source sounds apps, or any other software that supports MIDI. The open source blockEditor application lets you reprogram any of the controller's sixty four clip buttons, eight knobs, two faders, and seven function buttons. Block is hand crafted from lightweight wood and aluminum for easy portability.

Block has bi-directional talkback communication allowing the controller to talk to your software, and software to your device. MIDI messages can be sent to the Block to light up the buttons for an interactive performance. Completely programable and mappable, block provides a flexible control surface that be used with any software or setup. Completely USB powered means you don't have to worry about adapters and and power strips, and it is plug and play so no drivers are required.
Block features
Portability — A compact and lightweight design lets you slip this controller into your backpack. Plug it into your computer's USB, and you are powered to play.
Design — Block is completely plug and play and USB powered. This means you don't need drivers to use it and it works with a single USB cable.
TalkBack — Reprogrammable buttons with LED talkback provides visual feedback by sending MIDI commands back to the controller.
Software — A growing collection of open source sound applications and utilities provide a wide range of uses and endless customization.
Home Grown — All controllers are handcrafted by artists with care the Livid Instruments Austin, Texas shop.
Block is available for pre-order for $399 USD. It will ship November 1, 2009.
More information: Livid Instruments