Livid Instruments has announced support for the new Bluetooth LE MIDI standard for Yosemite OS X and iOS 8 on its Guitar Wing, an expressive, MIDI control surface designed for guitar and bass players.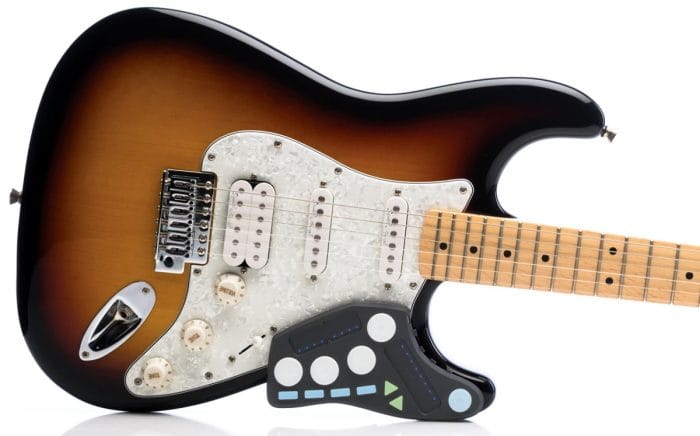 This direct connection between the Guitar Wing and compatible devices puts the control of digital synths, samples, and effects right on your guitar.

"We worked extremely closely with Apple engineers to make this happen," explains Justin Moon, chief of Engineering at Livid. "As one of the first products to adopt Apple's Bluetooth LE MIDI, we're excited to make the Guitar Wing even easier to use."

The Guitar Wing provides a powerful bridge between guitars and control of digital effects, DAW, and digital instruments. It's an ideal tool for expanding a guitarist's sonic palette, and making it easier to record tracks in the digital studio. With native Bluetooth LE MIDI connections, the device shows up in the system with the reliability and ease of any 'hardwired' MIDI controller. It's also an amazing controller for iOS, bringing the power of all the music apps and effects into the palm of the guitarist's hands – no clumsy cables required. On iPads and iPhones, the full array of MIDI-controllable effects can be controlled, from software like the AmpliTube guitar effects from IK Multimedia, Moog Filtatron, and even multitrack recording with Wavemachine's Auria.

"There were a number of technical challenges in this", continues Justin Moon. "but we wanted to shield our users from any transition, and make it as simple as a firmware update. As a result, all Guitar Wing users will benefit from the update, and the ones with Apple gear are going to have a great new way to use the Wing."

Easy to attach to any guitar, the Guitar Wing features three faders, five pressure-sensitive pads, ten buttons, and a 3D motion sensor. The Guitar Wing works with any software that supports MIDI. Templates are available for popular products such as Ableton Live, Bitwig Studio, Apple Logic and more. The free WingFX software, plugin, and iOS app make it easy to get started with the Guitar Wing.
Guitar Wing is available for purchase for $189 USD.
More information: Livid Instruments / Guitar Wing