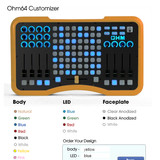 Livid Instruments has announced the Ohm64 Customizer, a web-based Flash application which lets you style and customize your own Ohm64 with over 100 different combinations.
We are really happy to now offer you the ability to create your own Ohm64 design in real-time, and order it directly from our shop.

The Customizer lets you design, preview, and order a custom Ohm64 and have it made-to-order and shipped in just ten days. Custom options include multiple color body finishes, LED colors, and faceplate colors. Since we make everything in-house, we have the ability to customize, create, and build everything under one roof, which is rare for an electronic music hardware product. The customizer allows you to stylize and design your Ohm64, and order it direct from Austin, Texas.

As an introductory offer and a way for us to test the process, each custom element is only, $10.
More information: Livid Instruments