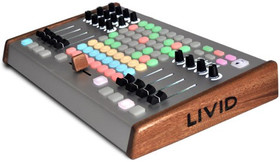 Livid Instruments has released the OhmRGB, an adaptable MIDI control surface.
The OhmRGB is a totally customizable, interactive MIDI instrument, designed to give you hands-on control for your performance. High-quality sliders, knobs buttons, expansion jacks, and multicolor LEDs provide the interface for creative expression, whether you're mixing samples and synths or DJ'ing a cutting-edge set. Constructed with anodized aluminum and hand-finished wood, the quality is felt down to your fingertips.
OhmRGB features
Adaptable – The OhmRGB has scripts for many major audio, video, and lighting software titles like Ableton Live and Traktor, plus a growing community of open source apps that turn the OhmRGB into a digital instrument.
USB Powered and Plug and Play – The OhmRGB is completely plug and play and USB powered. No drivers, no wall wart: it works with a single USB cable.
Multicolor LEDs – Every button is programmable with seven colors available to create custom maps and settings.
Expansion Jacks – The OhmRGB has expansion jacks for added adaptability, flexibility, and control.
Customizable – All of the assignments presets, and LED colors on the Ohm 64 RGB can be changed, remapped, and saved using the OhmRGB Editor software.
High Quality Build – Livid Instruments controllers are built by hand (with the help of a few robots) from fine woods and metal in Livid's Austin, Texas shop.
Community – The same people that make the instruments are there to service support your controllers. Livid's active community of users are helping grow the library of software and tools.
The OhmRGB will ship July 25th, 2011. It is available to pre-order now for $699 USD (regular $749 USD).
More information: Livid Instruments / OhmRGB