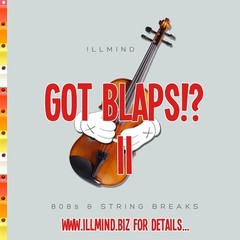 !LLMIND has announced the "GOT BLAPS!? 2" Official 808s & String Breaks contest.
So you think you got BLAPS? Prove it! PRODUCERS, enter my exclusive "GOT BLAPS!? 2" contest by simply doing the following:

Purchase the brand new !llmind SPECIAL EDITION Blap Kit: "808s & String Breaks" Sound Kit here.
Make a beat using ONE "String Break" riff and (at least) ONE "808" kick drum contained in the kit, along with ANY other drums/samples/sounds of your choice (genre doesn't matter)
Submit ONE beat to blapkitcontest@gmail.com (MUST be an mp3 email attachment.)
Cross your fingers!
The contest ends on Sunday March 31st, 2013 at 11:59 PM. The winner will be chosen (by !llmind) and announced by the end of first week of April 2013 via LIVE USTREAM (date/time announced soon).
Prizes include a limited edition !llmind "ASR-10" USB DRIVE (Contains: BLAP KIT VOL 1 – 3 + unreleased drum kits & sound fonts, !llmind's ENTIRE catalag of songs produced + released since 2002, and additional surprise material, free 1 hour online video consultation with !llmind, all future "Blap Kits" and !llmind Sound Banks released in 2013, the opportunity to submit up to 10 beats to !llmind, to be constructively critiqued with detailed advice from !llmind himself, and first priority on a slot to perform in a future B.L.A.P. Showcase in NYC in 2013.
More information: GOT BLAPS!? 2