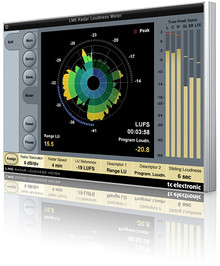 TC Electronic has announced it has updated its LM6 Radar Loudness Meter to version 1.1, introducing faster-than-real-time, off-line measuring with AudioSuite in Pro Tools.
Existing LM6 users can now upgrade to version 1.1 and get access to the AudioSuite off-line feature, which allows for measuring a full track at a speed faster than real time.

After the track has been measured, LM6 displays the full loudness history of the track, using the easy-to-read Radar Display™, and complete loudness statistics, including Program Loudness (LKFS/LUFS), Loudness Range and True-Peak Max, are available instantly. There is even a text-based log file containing Loudness Range and Program Loudness data.
LM6's Radar display reflects the overall loudness landscape almost instantly with off-line measuring in AudioSuite (Pro Tools).
LM6 Radar Loudness Meter for Windows and Mac is available to purchase for $599 USD / 449 EUR.
More information: TC Electronic