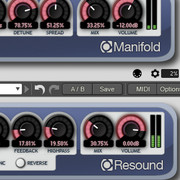 Loomer has released updates to Manifold and Resound, two cross-platform effect plugins.
Manifold is a software audio effect processor that enhances an audio signal, producing a fuller, livelier, bigger sound.

Resound is a software audio delay effect processor that emulates the sound and operation of vintage magnetic-tape echo units.
Changes in Manifold / Resound v1.6.0
Native 64-bit VST plug-in for Mac OS X (64-bit VST support requires Mac OS X 10.6 or greater; 64-bit Audio Unit requires Mac OS X 10.5 or greater; all other formats require Mac OS X 10.4 or greater. )
Integrated undo and redo, with unlimited history size.
[Resound] Split mechanical tape emulation controls into separate Noise and Flutter parameters.
Category support in preset browser.
MIDI Program Changes are now multi-threaded, and so will no longer potentially stall the audio synthesis.
Fix for GUI freeze that could occur in certain Mac OS X VST hosts.
Slightly reduced CPU usage and removed potential audio thread stall that could rarely occur when editing parameters.
Windows RTAS plug-in is now installed to the correct location on 64-bit Windows operating systems.
Fix for rare issue that stopped presets from loading in Linux Renoise when LADSPA plug-in support is enabled.
Fix for issue that could cause some presets to be instantly marked as changed after opening them in Pro Tools or Maschine on Mac OS X.
Factory presets now load significantly faster.
Fix for crash (on both Windows and Linux) that could occur when 'space' is pressed when confirming the overwrite preset dialog.
For Windows VST (32-bit and 64-bit), the preferences file can be placed alongside the DLL file to facilitate USB or portable installs.
Preset meta data (ie, author name, notes, tags) is now correctly displayed after loading an .FXP based preset or restoring a saved project.
VU meters now automatically reset their overload status after a few seconds.
Various host compatibility fixes.
PDF manual is now printer-friendly.
Manifold and Resound are available to purchase for £35 GBP + VAT each.
More information: Loomer