The Loop Loft is offering a 60% on 5 new packs during its Holiday Specials sale.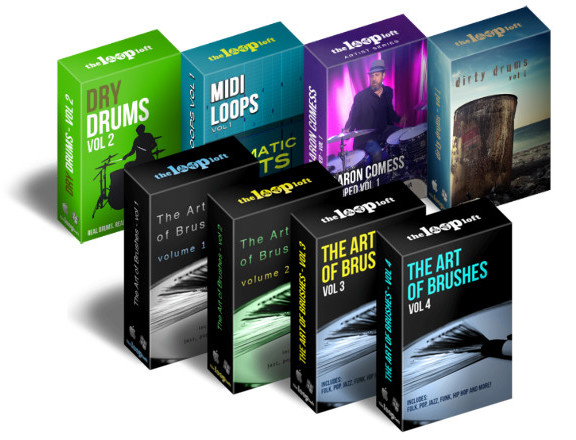 Every week during the holidays we'll be showcasing a different collection of 5 Loop Loft titles – all at 60% off!
Holiday Specials
Dry Drums Vol 2 – from $19.60 USD (regular $54 USD). The punchiest, fattest and driest drums on the planet are back. Dry Drums Vol 2 picks up where the first popular collection left off, with even more grooves and samples that cover a range of styles including blues, funk, hip hop, rock and folk.
Drumatic Beats – MIDI Drum Loops – $11.60 USD (regular $29 USD). Ghost notes. Variation. Pocket. Dynamics. After looking around at the other MIDI loop collections in the marketplace, we realized these were 4 crucial elements that were missing, so we set out to create our first release consisting entirely of custom MIDI drum loops, "Drumatic Beats".
Bundle of Brushes – from $37.60 USD (regular $136 USD). If you're looking for brush loops, then you've come to the right place. We've bundled together Vol 1, Vol 2, Vol 3 & Vol 4 of our popular Art of Brushes series to give you the entire collection at a 25% savings.
Aaron Comess – Looped Vol 1 – from $19.60 USD (regular $54 USD). From funk, folk, pop, jazz and rock, Aaron Comess has done it all in his illustrious career as one of NYC's premier drummers. Widely known for his work as a founding member of the Grammy-nominated, ten million album-selling band Spin Doctors, Comess bring his signature style and sound to this incredible new Loop Loft collection.
Dirty Drums Volume 1 – $11.60 USD (regular $29 USD). Looking for drum tracks that have a bit of dirt on them? Something different from the majority of highly polished, squeaky-clean sounding loops. Well, look no further. Dirty Drums Volume 1 contains a wide array of grooves and tempos that will bring an extra edge to any of your productions.
These deals will be available until December 19th, 2014.
More information: The Loop Loft