The Loop Loft has announced a limited time sale on 5 of its loop collections, offering a 50% discount this weekend only.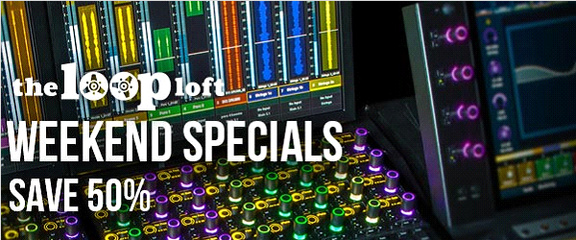 Loop Loft Weekend Sale
Indie Rock Drums – $19.50 (regular $39 USD).
We get it. You're an indie artist and you're not looking for over-produced drum loops that sound like outtakes from a 1987 Bon Jovi session. This is exactly why we've created our latest collection, Indie Rock Drums.
Complete Takes Vol 1 – $19.50 (regular $39 USD).
From the four stick clicks counting off the track, to the final crash of the last measure, Complete Takes provides you with 3 full songs of pristine drums and percussion recorded live at The Loop Loft.
Everything But Sticks – $24.50 (regular $49 USD).
Let's be honest. 99% of the drum loops in existence use sticks. This isn't necessarily a bad thing, but isn't it time to do something different? This is why we set out to produce Everything But Sticks.
Long Loops MIDI – $14.50 (regular $29 USD).
Are you tired of working with short, 1 to 2 bar loops? Do you find yourself altering loop patterns or manually programming fills for song transitions? Then Long Loops is the MIDI release you've been waiting for.
Brazilian Drums Vol 2 – $19.50 (regular $39 USD).
Drawing on inspiration from blues greats like Buddy Guy, Stevie Ray Vaughn, Albert King, John Lee Hooker and B.B. King, we crafted six complete sessions featuring hundreds of loops and samples.
The sale ends November 24th, 2014.
More information: The Loop Loft