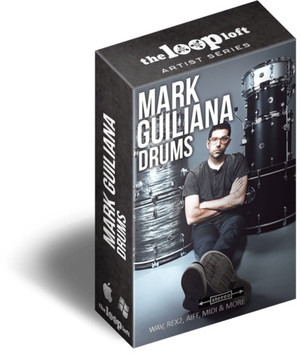 The Loop Loft has announced the release of Mark Guiliana Drums, a collection of drum sessions by acclaimed drummer, composer, educator, producer and founder of the independent record label, Beat Music Productions, Mark Guiliana.
"What happens when you add hard bop drum masters Elvin Jones and Art Blakey to a 1980s Roland 808 drum machine, divide the result by J Dilla and then multiply to the power of Squarepusher? Answer: Mark Guiliana." – Time Out London

Recorded at The Bunker Studio in NYC, Mark Guiliana Drums contains 9 complete drum sessions, utilizing 3 different drum kits, all captured in stunning 96 kHz 24bit multitrack detail (with Deluxe Edition). The result? Hundreds of inspiring and innovative grooves covering a massive range of styles and genres, all served up in a variety of audio formats (WAV, REX2, AIFF, Stylus RMX) and MIDI.

Also included are samples of all three drum kits, giving you complete control and flexibility with Mark's signature drumming and sound.
The sample pack is available for purchase starting at $39 USD.
More information: The Loop Loft