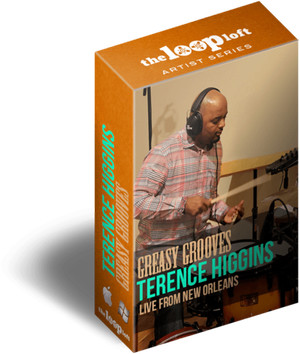 The Loop Loft has launched Greasy Grooves, a sample library featuring drum loops by Terence Higgins.
When you want grooves to sound and feel as authentic as possible, sometimes you have to travel directly to the source. This is what brought The Loop Loft down to New Orleans to record local drumming phenom, Terence Higgins. The result? "Greasy Grooves" – The most in-depth collection of drum loops ever produced from The Big Easy.

Higgins, known for his drumming with artists like The Dirty Dozen Brass Band, John Scofield, Warren Haynes and Ani DiFranco, tracked a range of beats as diverse as his credits suggest. This massive collection of loops includes native New Orleans grooves such as second line marches, Mardi Gras Indian rhythms and that "in-between" funk feel the city is famous for… sitting in the cracks between straight eighth notes and triplets.

In addition, Higgins explores reggae beats (one drop and steppers), shuffles (Texas and flat tire) and Tower of Power-inspired syncopated funk grooves, culminating in an eclectic library of rhythm that is sure to inspire any songwriter, producer and film composer.
The sample library is available to purchase for $49 USD.
More information: The Loop Loft