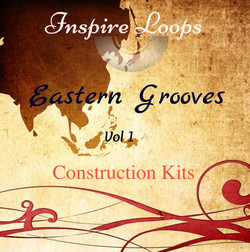 Loopbased has launched Eastern Grooves Vol 1 by Inspire Loops, a collection of 7 construction kits made with Authentic Asian, Middle Eastern and African instruments and percussions.
Eastern Grooves was created from a collection of Chinese String and Wind Instruments, Indian Ethnic percussions, Persian instruments and many different rhythmic and melodic wind and percussive instruments.

Eastern Grooves has a slight mix of bollywood beat style and percussive styled rhythms. From Land scaping Pads to Dry taikos, Eastern Grooves has a unique sound to itself. Making it different from the usual. Eastern Grooves also has percussion from the african continent. All construction Kits are in Wave format. A variety of Tempo signatures has been used for this project.
The sample pack costs 30 EUR.