Loopbased has introduced 9 sample packs from its partners, including titles by Prime Loops, Pulsed Records, Kryptic, Bluezone Corporation, and more.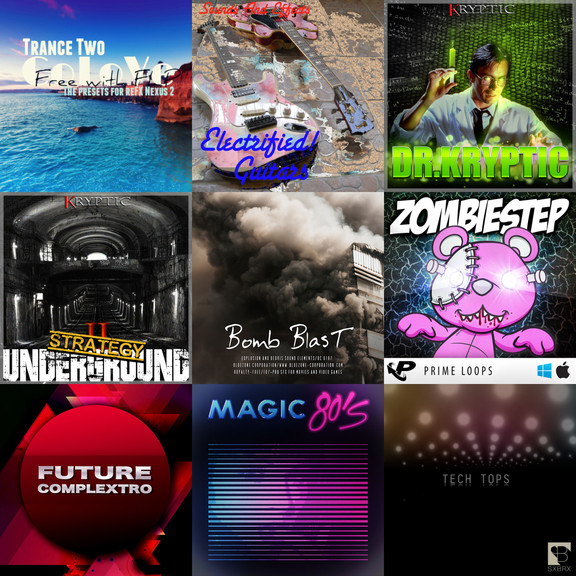 New packs at Loopbased
Zombiestep by Prime Loops – This extroverted producer tool kit is the ideal side-kick for any bass producer looking to cause chaos on the scene: get this very latest strain of the deadly dubstep virus today and prepare to cause a world-wide pandemic!
Magic 80s by Diginoiz – All of the most known modern genres were inspired by the time of the 80s. That is why we've prepared our new product called 'Magic 80s'. You will find 52 great sounding, warm, melodic WAV, AIF and MIDI loops in the style of 80s pop.
Dr. Kryptic contains five Hip Hop Construction Kits including WAV and MIDI files to make your production process easier. Inspired by the music of Dr. Dre, this pack includes all elements you need to create real East and West Coast tracks.
Future Complextro from Pulsed Records delivers an amazing collection of sounds and Construction Kits designed to give a unique & distinctive sound to any production.
Bomb Blast – Explosions and Debris Sound Elements by Bluezone Corporation – This brand-new sound FX library contains not only a great number of dynamic explosion sound effects, but also different debris sound ensembles like breaking glass, or sounds of falling metal and stone debris.
SB-03: Tech Tops by Sixbrix Sound Design features 101 kick-free top lines for adding additional drive to your Techno tracks. The top lines in the tempo 125 BPM consist of hi-hat and percussion patterns and were carefully crafted.
CoLoVe Trance 2 for reFX Nexus 2 by Colove Music – This awesome magic Trance and EDM presets package is called "CoLoVe Trance 2" for reFX Nexus 2 (old). You will find a collection of 91 shocking presets including Arps, Bass, Classic, Leads, Pads, Pump, Drum, FX, Guitar, Piano, Pluck and Vocal.
Electrified! Guitars For Reason ReFill & Kontakt by Sounds and Effects features vintage and modern electric guitars. Most guitars were played either through a huge Marshall four speaker stack or an original 1965 Fender Deluxe Amp "Blackface".
Underground Strategy 2 by Kryptic contains five Hip Hop Construction Kits that include both WAV and MIDI files to make your production process even easier. This pack includes all elements you need to create real Old School tracks.
The packs are currently available for purchase at 33% off in the Halloween Sale.